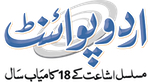 MENU
Independent (Bangali) Live Streaming - Watch Regional Channels Independent (Bangali) Online
Urdu point brings you free and unlimited live access to the Independent tv.
Independent tv is a Bengali channel. Independent tv is a 24 hours news and current affairs channel that broadcasts its transmissions in Bengali language. The Independent tv provides hourly headlines and news details about all the current happenings and events occurring in Bangladesh. The Independent tv channel broadcasts its transmissions in Bengali language all over Bangladesh. The Independent tv provides all the news about business, politics, education, entertainment, infotainment, world, lifestyle, fashion, sports, etc.
There are also many talk shows and infotainment programs on Independent tv. These infotainment programs are very informative for the viewers. The issues and problems of Bangladesh are discussed with renowned intellectuals and analysts in the talk shows of Independent tv channel. These issues may be social, political, sociopolitical, socioeconomic, geographical, economical, etc.
The Independent tv channel can be watched live through the website of Urdu Point. It has now become much easier for the viewers to access Independent tv live. You can watch all the headlines, news stories, news reports, talk shows and other infotainment programs live on Independent tv live through Urdu point website. Now you can watch all your favorite Independent tv live programs without facing any issues or problems in accessing the Independent tv through the website of Urdu Point.
Our Users from Pakistan, Karachi, Lahore, Islamabad, Peshawar, Multan, Faisalabad, Sialkot, India, Delhi, Mumbai, Agra, Ahmad Abad, Hyderabad, Gujrat, Australia, Melbourne, Sydney, New Zealand , Singapore, Thailand, Phuket, Bangkok, Pattaya, Koh Samui, USA (United States of America), New york, Brooklyn, California, Houston, Washington, Canada, Montreal, Qubic, Ottawa, Calgary, Vancouver, Toronto, U.K. (United Kingdom), London, Manchester, Bradford, Lords, Birmingham, Glasgow, Nottingham, Saudi Arabia, Jeddah, Riyadh, Makkah, Madinah, al Khobar, Bahrain, Manama, UAE (United Arab Emirates), Dubai, Sharjah, Abu Dhabi, Ras al Khaima, Fujairah, Al ain, Umm al Quwain UAQ, Ajman, Kuwait, Qatar, Oman, South Africa, Germany, Italy, Malaysia, KL, Kuala Lumpur, Penang, Langkawi, Spain, Madrid, Barcelona, France, Paris, Nice, Netherlands, Amsterdam, Rotterdam, Greece, Afghanistan, Kabul, Jalalabad etc daily visit UrduPoint to watch Regional Channel Independent (Bangali) Live online for free, with the best quality of HD streaming.