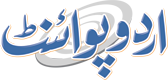 Ahmad Hammad Poetry - Ahmad Hammad Shayari, Urdu Ghazal, Nazam Collection

Ahmad Hammad Poetry in Urdu is famous among poetry lovers. Everyone love to read Ahmad Hammad Urdu Shayari. Best and vast collection of Ahmad Hammad Urdu Shayari is available at UrduPoint. We update it regularly so that you don't miss any latest Ahmad Hammad Poetry in Urdu.
Ahmad Hammad works at PTV (Pakistan Television) as an anchor. He has been working with Royal TV. Ahmad has interviewed prominent political, literary and intellectual figures. In addition to working at TV, he's been anchoring a film-based radio show namely CHHAAN at FM95 Punjab Rung with renowned film writer and poet Rukhsana Noor for around 2 years; from 2010 to 2012. He possesses an excellent track record of producing short films, documentaries, plays, screenplay writing, concept development, road shows, talk shows, conducting interviews and anchoring high-profiled TV and radio shows.
Over 220 hours' appearances in the electronic media as a host and guest are to Hammad's credit; ATV, Waqt TV, PTV—Home, PTV—News, Star-Asia TV, Such TV, Punjab TV, APNA TV, Radio Pakistan, FM-101, FM-100, FM-103, FM-104.6, FM-107.4, FM-91, FM-93, FM-95, Sargodha, Faisalabad etc…
He has been working in print media for last 20 years. He has worked as editor, contributor, feature writer and columnist. Currently he is working on the final thesis Alienation for M Phil Media Studies.
He has been working on the project feasibility for the Media University with Dr Mughees ud Din Sheikh who is the ex-dean faculty of Social and Behavioral Sciences, University of the Punjab.