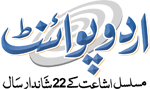 Atta Shad Poetry - Atta Shad Shayari, Urdu Ghazal, Nazam Collection

1939 - 1997 Faizabad
Atta Shad Poetry in Urdu is famous among poetry lovers. Everyone love to read Atta Shad Urdu Shayari. Best and vast collection of Atta Shad Urdu Shayari is available at UrduPoint. We update it regularly so that you don't miss any latest Atta Shad Poetry in Urdu.
A great poet, researcher, play writer, critic and intellectual- Atta Shad was born on 1st November 1939. In start he wrote poems in Urdu and later he also wrote in the Balochi. In reference to Balochi poetry he was considered the architect of this symbolic modern Balochi poetry. Shad's poetry style was inspired by Faiz in start. He also started his poetry under the instruction of the Faiz Ahmed but soon he felt that he need to write in his own style.
Writing in the unique style gave him a significant place in literary quarters. He was influenced by the western romantic poets such as Shelley, and T.S. Eliot. He was considered the significant figure in modern Balochi poetry. "Shepaank" was his first collection of his free verse poem. It was published in "OLS magazine". He served as the bridge between Urdu and Balochi Poetry.
Two poetry collections were published in his life time. His Urdu poetry is considered as the mirror of the Balochi culture. A new poetic flavor was added to the Urdu Poetry by Atta. He used certain Balochi folk lore and romantic sags. Some of his poems like 'Mahnaaz', Haani, Wafa and Shah Mureed represent many aspects of Balochi culture.
His short poem 'Wafa' reads as: On my motherland A bowel of water Worth eternal allegiance Let us quench our thirst And Submit ourselves to the eternal bond.
A major Pakistani newspaper said about him that Atta Shad used to raise his voice against all forms of social oppression and that Balochistan had been vulnerable to tribal oppression and dictatorship over the years. He died on 13 February 1997 and was buried on 14 February in Qasi graveyard in Quetta.