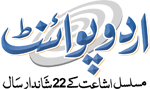 Shehnaz Nabi Poetry - Shehnaz Nabi Shayari, Urdu Ghazal, Nazam Collection
Shehnaz Nabi Poetry in Urdu is famous among poetry lovers. Everyone love to read Shehnaz Nabi Urdu Shayari. Best and vast collection of Shehnaz Nabi Urdu Shayari is available at UrduPoint. We update it regularly so that you don't miss any latest Shehnaz Nabi Poetry in Urdu.
Shahnaz Nabi is an Indian writer, poet, playwright and critic. She was born in Calcutta,West Bengal .She did her post-graduate studies in Urdu
from Calcutta University. She received her Ph.D degree in 1989. The title of her thesis was "The Development of Urdu Criticism after 1960."
Shahnaz started writing poems when she was hardly thirteen. Her first poem published in a Urdu magazine in 1974. She has written short stories and dramas too. Her famous books are Bedi – ek Jaiza (1985 ), Bachchon Ke Dramay (1989 ), Bhigi Ruton Ki Katha (1990) , Bish-Shas Ghatak (1992), Mujhe Mat Chhuo (1993) , Lisannyat aur Daccani Adabiyat (1993), Urdu Drama, Agha Hashr aur Saide-Hawas (1998).