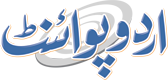 Pyar, Urdu Nazam By Vineet Raja
Pyar is a famous Urdu Nazam written by a famous poet, Vineet Raja. Pyar comes under the Social category of Urdu Nazam. You can read Pyar on this page of UrduPoint.
پیار
ونیت راجا
نانی ہر رات
اک وہی کہانی سناتی تھی
بچے سنتے تھے
خوش بھی ہوتے تھے
سو بھی جاتے تھے
اک رات اچانک
کہانی پرانی ہو گئی
ونیت راجا
© UrduPoint.com
All Rights Reserved
Vineet Raja
Pyar
Vineet Raja
nani har raat
ek wahi kahani sunati thi
bachche sunte the
KHush bhi hote the
so bhi jate the

ek raat aachanak
kahani purani ho gai
Related Vineet Raja Poetry
You can read Pyar written by Vineet Raja at UrduPoint. Pyar is one of the masterpieces written by Vineet Raja. You can also find the complete poetry collection of Vineet Raja by clicking on the button 'Read Complete Poetry Collection of Vineet Raja' above.
Pyar is a widely read Urdu Nazam. If you like Pyar, you will also like to read other famous Urdu Nazam.
You can also read Social Poetry, If you want to read more poems. We hope you will like the vast collection of poetry at UrduPoint; remember to share it with others.