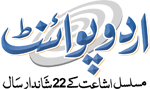 Yasmin Habib Poetry - Yasmin Habib Shayari, Urdu Ghazal, Nazam Collection

Mianwali
Yasmin Habib Poetry in Urdu is famous among poetry lovers. Everyone love to read Yasmin Habib Urdu Shayari. Best and vast collection of Yasmin Habib Urdu Shayari is available at UrduPoint. We update it regularly so that you don't miss any latest Yasmin Habib Poetry in Urdu.
Yasmin Habib writes in Urdu and English both languages. She writes poetry as well as short stories. She is a well-known poet who also translates the English poems in Urdu for the Urdu language readers. Her poetry is known for its depth and vision and her short stories acclaimed for surreal experimental monologue.
Al-hamd publishers published her poetry book in 1996. The title of the poetry book was "Asaib Se Parchaeen Tak". Yasmin's talent is always praised by many of the poets. Her English poetry has been included in Dances in the moonlight (2000) and the best poems and poets of 2001 by The International Library of Poetry. She has also been presented with The Editor's Choice Award in April 2002.
'In a flash' is the poem which was written specifically for an event that has been distributed in all the schools for inspirational purposes by the Head of the Education.
She is also engaged in promoting the poems written in the West for the Urdu language readers by translating works of Ted Hughes and Silvia Plaith into Urdu and also translating the modern poetry created in Urdu into English language to give a common sense.