Zofishan Naqvi ضوفشاں نقوی - Profile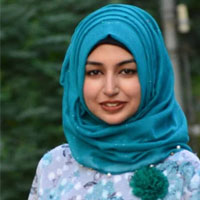 Zaofishan Naqvi is the student of Communication Studies in University of Punjab. She is currently working as an Anchor at Urdu Point. She is enthusiastic about her profession and working hard for it.
She has been working with many Non-governmental organizations for the Peace Promotion, Early Child Marriage and Women Rights on volunteer basis.
She is a creative writer and director and love to take part in theatres. She's been very active in debates and essay writing competitions throughout her academics.