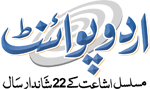 Women's Corner - Health, Fitness, Fashion, Beauty, Tips and Tricks, New Ideas
Women Section - UrduPoint understands that women always want new ideas to decorate their homes, cook new dishes, and look more beautiful and elegant. To tackle all such needs of a new era woman, UrduPoint has created a separate section where women can get everything they want. Here you will find the latest fashion ideas, makeup tutorials, health and fitness tips, recipes, and much more.
In this women's corner, all the females will never get bored and will always find something new to explore and experiment with. If you are a health and fitness freak and want your body to be always in shape, you can read out our fitness tips and tricks. You can try them out at your home to get outstanding results. You will surely look beautiful and amaze everyone.
With our beauty tips, you can easily make your skin and hair look better. Also, there will be no need to buy expensive hair and skin care products as we share economical and homemade tips.
Fashion is something that every woman follows, no matter what age she is. Every woman wants to look unique than others. With our fashion and lifestyle section, you can get the latest updates about trending fashion in each season. Whether it is summer or winter or even the wedding season, you will always get something new to explore here.
Every woman wants to decorate her home that depicts her aesthetic sense. With our home decor section, you will get amazing economic ideas to make your home look better. Also, the kitchen is a place where women spend the cooking time, so it should also look amazing. With our kitchen decor ideas, you can know how to maximum utilize your kitchen space that will look beautiful.
You can read blogs of your favorite personalities and learn new things about them in the blog section. So go through the whole women section to explore the news, tips, ideas, and everything. You will surely visit it repeatedly.