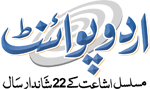 UrduPoint - Leading Digital Channel for Urdu News
Previously the ultimate source of getting news was only through newspapers and that too in their printed from. Now all that has changed as people no longer rely on just printed newspapers to stay up to date. In this modern world, the immediate sources of getting news are TV news channels, digital newspapers, radio, and social media. Many websites strive to offer latest news. The competition among digital platforms is tough where every news channel wants to be the first to break the news and in this rat race many a times the authenticity of the information is compromised.
Pakistan's national language is Urdu and it is the language that is understood by the majority of the population. This is why Urdu news is preferred over English news.
UrduPoint is a digital platform, which is proffering Urdu news as well as English news simultaneously. In the age of technology, people get their news on the go, with a few clicks on their smart phones. With easy access to budget phones irrespective of one's socio-economic background, this is everyone's preferred mode of information. UrduPoint is the ultimate source of getting all news, be it international or national.
Internet has performed a major role to make this world a global village, you can now know, latest minor and major Urdu news with just a single click. In a moment you will get breaking Urdu news, either national or international. The fastest and most authentic source of getting Urdu news updates is UrduPoint. This site will provide you all the current news, entertainment news and general knowledge content that you are looking for.
Fake news is a real challenge these days, it's very hard for the readers to differentiate between real and fake news. UrduPoint publishes only authentic and valid Urdu news after verification. Our team of reporters across the country submit news of every city and town of Pakistan with full authenticity.
UrduPoint being the largest website of Pakistan, offers authentic and updated Urdu News on all important topics. Find top stories related to politics, sports, technology, Gulf, GCC, international affairs, fashion, entertainment and business.
Urdu Point's content is also available on all social media platforms, including Facebook, Twitter, Instagram and TikTok.
History of Urdu News
Here is a brief history of the origin of the Urdu language. It's a Lashkari (Soldier) language developed to make communication easier between Arabs, Turks, and other locals.
The idea of Urdu news was started by Harihar Dutta in Kolkata, 1822. Harihar Dutta started the first Urdu newspaper by the name, "Jam-i-Jahan-Numa. With his amazing idea of Urdu News, The Great Rebellion of 1857 influenced many small publication agencies to publish Urdu News and help the locals understand news in their local language.
The new era of Current Urdu News started after the year 1857. The most prominent Urdu News carrier paper was Oudh Akhbar published by Munshi Nawal. During the years the concept became popular and 20th century's three major Urdu Newspapers earned popularity:
"Zameendar"- by Maulana Zafar Ali Khan
"Watan"- by Maulwi Sanaullah Khan
"Naqeeb-e-Hamdardi"- by Maulana Muhammad Ali Jauhar
In the history of Urdu News, the only weekly publication that covered political and religious news of the Muslims of Subcontinent was "Al-Hilal" by Maulana Abul Kalam Azad. Similarly, the Inquilab made high waves in the revolutionary campaigns and can be credited for independence as well.
Pakistan Current Urdu News and Journalism
After independence, Pakistan started to develop its role in the world of journalism. Today, there are many news agencies and websites in Pakistan that covers all the happenings in Pakistan and internationally. Like, government, politics, education, health, environment, economy, business, fashion, and entertainment, as well as athletic and unusual events. At the time of independence, there were only four major Urdu publications in Pakistan:
Pakistan Times
Zamindar
Nawa-i-Waqt
Civil-Military Gazette
With todays modern technology, people no longer read newspapers as they have the option of online reading. Digital journalism or Online News entered the field and it's one of the most prevalent source of Updated News throughout the world. UrduPoint is the pioneer in digital journalism in Pakistan.
Best Source for Latest Urdu News
UrduPoint has been publishing Urdu news for the past 20 years and the consistent authenticity has made it stand way ahead of the competition. Throughout Pakistan, it's among the most trustworthy digital news channel.
Q. Who is Pioneer of Urdu Journalism?
The first newspaper of Urdu Journalism was Jam-i-Jahan-Numa, founded by Harihar Dutta in 1822 in Kolkata. In Pakistan, the pioneer of Web channel was UrduPoint News Network.
Q. What are the current Urdu newspapers in Pakistan?
Following are some of the famous Urdu Newspapers in Pakistan:
Daily Dunya
Daily Jang
Daily Awaaz
Daily Nawa-i-Waqt
Khabarein
Pakistan Times
Q. What are the major news channels in Pakistan?
Following are the major news channel in Pakistan:
PTV News ( Pakistan Television News. It is the national news channel of Pakistan)
Geo News
ARY News
Express News
Dunya News
Hum News
GNN ( Gourmet News network)
92 News
Samaa News
City 42, 24 News
Q. How UrduPoint gathers authentic news?
UrduPoint gathers authentic news from the network of reporters and inside sources. The sources used by major news channels of Pakistan are also used by UrduPoint. UrduPoint News Network strives to provide authentic news to its users.
Q. What is the Best Source for Latest Urdu News?
If you're searching for the best source for authentic and latest Urdu News then UrduPoint can assist you. It provides you current Urdu News of local and international domains.
Q. Where I Can Watch Breaking Urdu New?
You can watch Breaking Urdu News Online for free at UrduPointvideos. You can read relevant articles of the latest Urdu News here as well.
Q. What's the Best Platform for Urdu News in Pakistan?
In Pakistan, UrduPoint is the best platform for Urdu News for local and international domains.
Q. What Are the Best Urdu News Websites in Pakistan?
The best Urdu News Websites in Pakistan are:
UrduPoint
Daily Pakistan
Geo News
ARY News
Dawn News
Mashable Pakistan
Express Tribune and so many more!