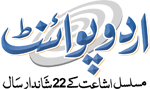 Girls Islamic Baby Names Starting with V Alphabet
UrduPoint presents you an Online Names Dictionary which displays Islamic girls names with Alphabet V. Here you can explore hundreds of beautiful Muslim girls names beginning with Alphabet V. Baby girl are the precious part of the family and parents want to gift them with the most beautiful name. However, in most of the cases, Muslim Baby Girls names beginning with alphabet V are more appealing.
Sr.
Name
Meaning
1
vadha
very white skin
2
vafia
complete, just
3
vanda
wish, desire
4
vardah
rose
5
varisha
lightning
6
varqah
give advice
7
vasfia
character, virtue
8
vashtee
lovely.
9
vashti
lovely.
10
vasia
female leader
11
veeda
found, evident, also little, few
12
Veena
an instrument, tool
13
vernice
in greek meaning is victory bringer
14
veronica
in american meaning is one who brings victory
15
vida
found, evident, also little, few

16
vikar ul nisa
honour women
17
viqar un nisa
she comfort
Names are an essential part of an individual's personality as it stays with them from cradle to grave. Many Muslim girls names beginning with Alphabet V holds immense social and religious significance. Islamic names for baby girls starting with Alphabet V are among the unique names available for the newly born babies.
Girls Islamic Names Starting with V
This page assists you in finding the Muslim Baby Girls Names starting with V alphabets. Particular alphabets are often preferred by parents such as V alphabet. Many charming Islamic names for baby girls begin with the V Alphabet.
Baby girls were beloved by the Holy Prophet S.A.W.W and He used to call them the "Blessing by the Allah Almighty". He recommended Muslims to chose meaningful and beautiful names for their baby girls. Otherwise, the names of Sahabiyas are also a great way of making your baby girl more pious and beautiful.
Islamic Names for Girls Starting with V
The Islamic names for baby girls starting with Alphabet V have multiple origins such as Urdu, Arabic, Turkish, Persian, Latin, and even Hebrew.
This page gives you access to thousands of lovely Islamic names starting Alphabet V. Here you can search for:
Islamic names meaning with Alphabet V in English and Urdu
Origin
Religion
Lucky Number
Lucky Color
Lucky Gemstone/Metal
Accurate spellings
UrduPoint lets you search hundreds of Islamic Names of baby Girls starting with English Alphabet "V" on this page. This guide provides you an opportunity of gifting your lovely baby girl a beautiful and attractive name starting with Alphabet V.