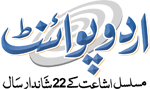 At UrduPoint, we take care of the cricket fans and strive to share each update of T0 World Cup 2021. On this page, you can find out every news coming daily from the T20 Cricket World Cup. You can visit this page daily to find out the latest news and impress your fellows with your knowledge of T20 World Cup 2021 happenings.
Every other day some team of T20 World Cup announces something related to their squad or preparations for the event. Players or officials do press conferences about what they are preparing for the T20 World Cup. Suppose you want to know all such happenings and missed those announcements and press conferences, no worries. You can read in detail all the news and announcements in the articles of T20 World Cup 2021.
Furthermore, you can know the expected playing 11 and team squads of all the teams. You can also know about the ticketing prices, venues, bookings, etc. Besides, you can also see the pictures, videos, and interviews of officials and players.
In short, if you want to have a deep insight into the T20 World Cup 2021, this page is for you. You can bookmark it to visit daily. This way, you will not miss anything about your favorite upcoming cricket event. Furthermore, we make sure that all the news and information regarding T20 World Cup 2021 is authentic to maintain the trust of our audience for UrduPoint.