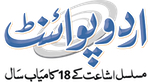 MENU
Today Capricorn Horoscope in Urdu
Capricorn Love Horoscope, Future Capricorn Horoscope by Zodiac Sign & Astrology
برج جدی آج کا دن کیسا گزرے گا
Read today Capricorn Horoscope in Urdu, Capricorn Love Horoscope, Future Horoscope and Star Information. Find if it's your lucky day or not. Read about your star sign and zodiac sign in Urdu. Burj Jadi Aaj Ka Din Kaisa Guzray Ga.
آج آپ کو غیر متوقع طور پر کچھ افراد کے ساتھ وقت گزارنے کا موقع مل سکتا ہے جس سے آپ کو اپنی خفیہ صلاحیتوں کے بارے میں اہم معلومات میسر آ سکیں گی۔آج اپنے کسی ضروری کاروباری دورے کو حتمی شکل دے کر عملی جامہ پہنانے کی جانب بھی جا سکیں گے جس سے آپکو خاص قسم کی تسلی اور سکون میسر آ سکے گا اور آپ کے باہمی جذباتی تعلقات بھی مستحکم رہیں گے۔اس دورے کے اخراجات معمول سے بڑھ کر ہو سکتے ہیں لیکن کامیابیاں آپ کوسارا کچھ بھلا دیں گی۔فی الوقت اپنی صحت کے بار ے میں ضرور توجہ دیں ۔کسی بھی قریبی فرد کے بارے میں کوئی دکھ بھری بات سامنے آنے سے آپ بھی دکھی ہو سکتے ہیں۔ (اُردو پوائنٹ اسٹرالوجی۔21مئی ،2018ء)
Read Weekly Capricorn Horoscope in Urdu
Read Monthly Capricorn Horoscope in Urdu
Read Capricorn Lucky Stones In Urdu
First zodiac sign is Capricorn star and it includes all the people whom date of birth lies "between" 23rd December to 19th January. According to Capricorn star in Urdu suggests that they are the most determined zodiac sign among all. Being determined, practical and helpful are most prominent traits of Capricorn Urdu horoscope. Today's horoscope of Capricorn predicts they should control their emotional imbalance otherwise they will experience stress and anxiety. Today Urdu horoscope of Capricorns advised them to watch their steps before taking it because if they will take steps in hurry they can have some serious problem. Daily horoscope in Urdu suggests that Capricorns should stay calm and keep moving towards their goal. Capricorn daily Urdu horoscope utters that they are ambitious personalities but sometimes they can be distracted by some external factors. So burj Jadi in Urdu need to be focused and determined towards the goal. Being determine can make Capricorn Urdu star sign very successful if they remain determine. Capricorns are considered intelligent too. So Urdu daily horoscope suggest them to be determined and focused to achieve goals. A lot of successful personalities carries this star i.e. Stephen Hawkins (scientist), Muhammad Ali (boxer) etc.