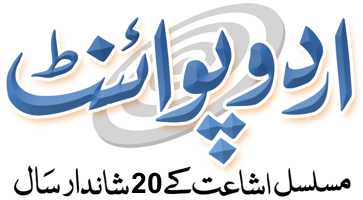 Today Virgo Horoscope in Urdu
Virgo Love Horoscope, Future Virgo Horoscope by Zodiac Sign & Astrology
برج سنبلہ آج کا دن کیسا گزرے گا
آج آپ کی ملاقات کسی ایسے تجربہ کار فرد سے ہو سکتی ہے جو اپنی کاروباری ترقی اور کامیابی کے راز آپ کو بتانے کی کوشش کرے گا۔اس ملاقات کے نتیجے میں آپ میں پیدا ہونے والا جوش و ولولہ بہت سے دلیرانہ اقدامات کرنے یا ایسی نوعیت کی منصوبہ بندی کرنے میں آپ کا مددگار ہوگا۔اگر آپ نے اپنا جذبہ اور کام کرنے کی لگن قائم رکھی تو یقینی کامیابی کا حصول بھی ممکن ہو سکے گا۔آج بھلے آپ کو اپنی وجدانی قوت پر ہی اعتماد کیوں نہ کرنا پڑے پھر بھی اپنے اردگرد رونما ہونے والے حالات واقعات پر گہری نظر رکھنی ہوگی کیونکہ اس کے بغیر آپ کی توجہ ہی نہ بھٹکے گی بلکہ ارتکازی کیفیات کا اثر کم ہونے سے کامیابی کے امکانات بھی نہ ہونے کے برابر رہ جائیں گے۔(اُردوپوائنٹ اسٹرالوجی۔7جولائی،2020ء)
Read Weekly Virgo Horoscope in Urdu
Read Monthly Virgo Horoscope in Urdu
Read Virgo Lucky Stones In Urdu
Videos of Virgo Zodiac Sign
Watch More Virgo Videos
Future Predictions of Virgo Star in Urdu
Virgo is the 9th of the 12 signs of the zodiac, which starts its cycle pre-fall each year amid Virgo season—which falls around August 23 till September 22. Virgo people have Baby faces and wandering eyes. Mostly they engage themselves in Babysitting for the neighbor's children, running errands on their unendingly long plan for the day, building something with their own two hands, cleaning something to immaculate condition.
| | |
| --- | --- |
| Star Sign | Virgo |
| Urdu Name | Burj Sunbla برج سنبلہ |
| Capricorn Dates | 23 August till 22 September |
| Symbol | The Virgin |
| Component | Earth |
| Planet Component | Mercury — the planet of communication |
| Mystery Wish | To be a saint |
| Most Loved Things | Laptops, magazines, long showers with aromatherapy cleansers, open-air shows, beloved companions, Trivial Pursuit |
| Most Hated Things | Lazy or profane people, jump bars, hot nourishment, leaving home, toothpaste crushed from the highest point of the cylinder |
| Quality | Mutable |
How the Zodiac Virgo "A Virgin"?
Ruled by the sustaining, systematic and rule-tolerating Virgin, Virgo life centers on control, refinement, and association. Envision a bookshelf that needs arranging, and you'll discover Virgo ordering by shading, book title, and writer, generally only for the sake of entertainment. Virgo encourages us to keep up a feeling of productivity and direct in our physical substances, and can be exceptionally steady as it's not centered on sparkling in the spotlight. Hairsplitting can be an issue. Under a Virgo planetary travel, we may end up getting in influxes of "examination loss of motion," needing to settle on a million choices down to the last detail yet powerless to make a move. The pith of Virgo life is committed, ingenious, supportive, persevering, wellbeing cognizant, explanatory, shrewd, clever, and common sense. In its negative state, Virgo life can be long-winded, pointless, on edge, overpowered, self-indulging, unsettled, and basic. Virgo meticulousness and out of this world guidelines have their utilization, however, can unleash devastation on associations with ourselves and others. Since Virgo manages the 6th place of wellbeing and wellness, health and all things "green" (from kale smoothies to tidying up the planet) fall under its area.
Love Life of Virgo Zodiac:
Choosy Virgo, love can be a test when your exclusive expectations get included. As the zodiac's stickler, it's difficult for anybody to measure up to your criteria. You'd rather be distant from everyone else than settle—an incredible frame of mind, as long as you keep your desires reasonable. At the point when connected effectively, this getting rid of procedure pursues away the washouts and can even tame everlasting unhitched males. Ordinarily, however, you scarcely give anybody a possibility. One human mistake can be a deadly defect for your suitors. Since first dates are frequently loaded up with apprehensive minutes, you may need to give individuals a bit more elbow room.
Virgo People at Work Places:
Virgos love work, particularly dedicating themselves completely to a venture. A Virgo can be a peaceful pioneer, spurring a group without enormous addresses or declarations, and showing others how it's done. This sign requests the same amount of (if not more) perfection from themselves as they do from the general population who work with them. While Virgo is a decent cooperative person who doesn't cause drama or makes waves, this sign loves working solo, frequently consuming the midnight oil just to make them think time alone in the workplace. Virgo loathes performing various tasks and observes unlimited messages and intrusions to be unimaginably obtrusive. Along these lines, Virgos frequently take their work home with them, which can be irritating to the general population they live with.
Virgo rules over the Mercury- Planet of Communication:
Virgo, similar to Gemini, is controlled by the armada footed errand person planet, Mercury. In folklore, Mercury completed demands and assignments at the direction of other divine beings, notwithstanding receiving various personas so as to satisfy his missions. This fits splendidly with Virgo's capacity to perform various tasks and scratch off their endless daily agendas with exactness.
What Virgo People are like?
From hard-working attitude to the closet, Virgos are the exemplification of #flawless. They can pull off the "I Woke up like this" look—regardless of whether they'd rather put in a few hours preparing and assembling themselves in the mirror. Since Virgos can get worried about micromanaging their lives (and other people's!), downtime is critical for them. They esteem their isolation and can spend liberal hours perusing, composing, arranging, cleaning up or cooking up imaginative activities. Be that as it may, they'll continually spring vigorously for a companion in need. Since attentive Virgos can rapidly detect the defects in all things, they can seem to be basic or judgmental. They're just attempting to help! Be that as it may, when they pass into long-winded mode, they may require an update that they don't need to "fix" the world. As hard as Virgos might be on loved ones, they're significantly harder on themselves. This giving sign needs to gain proficiency with the specialty of getting—a lifelong battle for some.
Virgo Star in Urdu
According to Virgo astrology in Urdu people related to this star have warm and action-oriented personality. Virgo astrology birth chart in Urdu suggest that they are practical helpful and observant. Being careful and giving attention to the smallest details of things or events are traits of Virgo zodiac sign in Urdu. Being analytical, practical and loyal are attributes of Virgo. According to Virgo star in Urdu people having his star is shy and overly critical to self and to others as well. Liking healthy food, animals and cleanliness are traits of Virgo daily zodiac sign. Virgo Daily Horoscope in Urdu utters that people related to this star have a deep sense of humanity and it makes them one of the most caring zodiac sign. Read Daily Virgo Horoscope in Urdu only on UrduPoint.