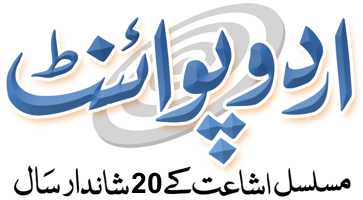 Today Scorpio Horoscope in Urdu
Scorpio Love Horoscope, Future Scorpio Horoscope by Zodiac Sign & Astrology
برج عقرب آج کا دن کیسا گزرے گا
آج پکا ارادہ کرکے اپنے دوستوں کے ساتھ مشترکہ کاروبار کرنے کا عملی قدم اٹھا لینا چاہئے۔اپنی شریک حیات کی عملی مدد اور اپنے حلقہ احباب میں شامل کسی سینئر خاتون کے مشوروں پر غور کرکے ہی اپنے لئے فائدہ مند راہ کا انتخاب کر سکیں گے۔آج کسی نئے کاروباری دورے کی تیاری کرنے کے بارے میں نئے حالات کے مطابق ہی فیصلہ کر سکیں گے جبکہ اپنے منصوبوں میں اس قدر لچک ضرور رکھیں کہ کسی بھی قسم کی تبدیلی سے آپ پریشان نہ ہو سکیں اور نہ ہی ذہنی انتشار کا شکار بن سکیں۔ اپنے اعصاب پر قابو رکھیں اور اپنے رویے میں بہت زیادہ حلیمی پیدا کرنے کی کوشش کریں اس سے نہ صرف آپ پر سکون رہیں گے بلکہ آپکا حلقہ احباب بھی وسیع ہو سکے گا۔ (اُردوپوائنٹ اسٹرالوجی۔2جولائی،2020ء)
Read Weekly Scorpio Horoscope in Urdu
Read Monthly Scorpio Horoscope in Urdu
Read Scorpio Lucky Stones In Urdu
Videos of Scorpio Zodiac Sign
Watch More Scorpio Videos
Scorpio Horoscope
Scorpio is the Eleventh Zodiac, which makes it second last star of all zodiacs. Its cycle begins amidst fall each year amid Scorpio season - which falls between 23 October till 21 November. You can often spot Scorpions in the studio creating a platinum collection, sitting at the corner table of an underground bar, dismantling things and figuring how to assemble them back once more.
| | |
| --- | --- |
| Star Sign | Scorpio |
| Urdu Name | Burj Aqrab برج عقرب |
| Taurus Dates | 23 October till 21 November |
| Symbol | The Scorpion |
| Component | Water |
| Planet Component | Pluto — the planet of intensity and recovery |
| Mystery Wish | To have total and all-out control |
| Most Loved Things | Underground music, fiery food, a demeanor of risk, exceptional items, remote gadgets, natural ingredients, vinyl |
| Most Hated Things | Simple-disapproved of individuals, devious adulation, individual inquiries, living at another person's home |
| Quality | Fixed |
Scorpios symbolizing the nature of "The Scorpions":
Governed by the almighty and enticing Scorpion, Scorpio is maybe the most misconstrued and baffling sign of the zodiac. Undercover ordinarily, this sign brings us to shadowy and concealed spots that we don't as a rule have the boldness to confront. The sign of life, demise, and revival, Scorpio vitality grasps these life cycles and constantly changes and rehashes itself. There are really four manifestations of Scorpio: the first is the venomous, possessive Scorpion itself; the second is the dangerous, beguiling yet-fatal snake; the third is the taking off bird whose penetrating look strongly watches the scene (and its prey) underneath; and the last form is the regularly consuming, all-seeing Phoenix that ascents up from the fiery debris into interminable resurrection. Under a Scorpio planetary travel, we may wind up managing some extreme individuals and vitality, notwithstanding holing ourselves up late around evening time to process complex feelings or channel our mind-boggling sentiments into centered work and inventiveness. The pith of Scorpio vitality is attractive, enthusiastic, faithful, defensive, trendsetting, controlling, incredible, magnetic, transformational, engaged, steadfast, mending, clairvoyant, holding focused and courageous. On the flip side, negative Scorpio vitality can be over the top, possessive, envious, cryptic, vindictive, merciless, computing and manipulative.
Scorpio rules Pluto- the Planet of Intensity:
Scorpio is administered by Pluto, lord of the black market and everything associated with the mysterious. The legend goes that the essential Greek divine beings—Jupiter, Neptune, and Pluto—attracted straws to figure out who might separately lead the Earth, the sea, and the black market. Tragically, Pluto got the awful end of the arrangement and was constrained to administer the area of the perished. Pluto is regularly portrayed sitting on his position of authority with a two-dimensional staff. Since Pluto wasn't found until the 1930s, Scorpio has Mars as its minor ruler. Mars is the divine force of war that is delineated as charging forward into a fight.
Learn More about the Nature of Scorpions…
Scorpio individuals can be dubious to spot. With their held personas, they only occasionally starts a discussion or communicates enthusiasm for others transparently—except if they get a handle on the circumstance first. When you motivate them to open up, be that as it may, you'll feel their searing energy for whatever points entrance them. Be cautioned: Scorpios can concentrate on one subject to an outrageous, so you might be in for a more profound jump than you expect—or need! In any case, their common mystique can rapidly arouse your enthusiasm for the theme, as well. Numerous Scorpios are front line pioneers with cult-like followings! Another approach to spotting them? Search for the piercing Scorpion look, which is hawk-like, narrowing in on its "prey" with sleep-inducing and piercing eyes. On the off chance that you happen to be the object of that look, keep an eye out! You could feel read as effectively as a youngsters' book, as Scorpio appears to simply KNOW every one of your privileged insights, weaknesses, and fears. Their engaged consideration can be addictive and even agonizing when it's pulled away. Be watchful how rapidly you tumble down that Scorpio rabbit gap—it's not as simple to slither back up.
Scorpions in Relationships:
When you get to know a Scorpio, you structure a power couple or considerable union. While they don't surrender their faithfulness and trust effectively, when they do, they'll stay with you through various challenges. Try not to try and consider deceiving a Scorpio, however, in light of the fact that they WILL release their wrath on you, unveiling the majority of your privileged insights and airing your messy clothing. Vengeance is their most loved dish to serve… super cold! On a constructive note, Scorpios are the ideal individuals to enable you to investigate your darker feelings or sexuality, controlling you through fifty or more shades of overwhelming and soul-communing encounters. In spite of the fact that this sign may need total and express power over everything, Scorpios subtly long for the very thing they dread genuine closeness with others. It takes a ton for Scorpio to uncover their helplessness, so protect that benefit with the most extreme consideration. As Scorpios open up and figure out how to demonstrate their shadow side, they can recuperate in manners that are really significant.
Scorpio Future Production in Urdu:
According to Scorpio astrology in Urdu, people related to this star are strong-willed and mysterious personality. Scorpio astrology birth chart in Urdu suggest that they have a greater tendency to easily grab the limelight. Being focused is one of the prominent attributes of Scorpio zodiac sign. A Scorpio born know how to come out from a difficult situation. UrduPoint provides daily Scorpio Urdu horoscope online, so read it online only on this website.