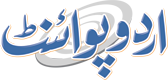 Send Your Urdu Poetry to UrduPoint
Send Your Urdu Poetry to UrduPoint - You can post your poetry on UrduPoint.com for free. Submit your Shayari, nazams & ghazals or email us.
اپنی شاعری بھجوائیے
ادارہ اُردو پوائنٹ ہمیشہ سے نئے شعراء کی شاعری کو اُردو پوائںٹ پر مناسب جگہ دیتا آیا ہے۔ اور اپنی روایت کو برقرار رکھتے ہوئے نئے سیکشن میں بھی یہ سلسلہ جاری ہے۔ آپ دنیا میں کہیں بھی ہوں اپنی شاعری بغیر کسی معاوضے کے مفت اُردو پوائنٹ پر شائع کر سکتے ہیں۔
اگر آپ کا اکائونٹ اُردو پوائنٹ پر پہلے سے موجود ہے تو یہاں پر کلک کیجئے اور اپنی پروفائل میں جا کر ہمیں اپنی شاعری بھجوا سکتے ہیں۔ اگر آپ کا اکائونٹ پہلے سے موجود نہیں ہے تو نیا اکائونٹ بنانے کے لئے یہاں پر کلک کیجئے۔
اگر آپکا اکائونٹ نہیں بنانا چاہتے تو آپ اپنی شاعری ہمیں ای میل بھی کر سکتے ہیں۔ ای میل میں شاعری بھجنے کے لئے مندرجہ ذیل کوائف کا ہونا ضروری ہے۔
آپکا نام
آپکا ای میل ایڈریس
آپکی تصویر
شاعری کا عنوان
شاعری
مندرجہ بالا کوائف میں سے کسی کوائف کے موجود نہ ہونے کی صورت میں آپ کی شاعری کو شائع نہیں کیا جائے گا۔
ہمارے ایڈیٹرز آپ کی شاعری کا جائزہ لینے کے بعد اسے شائع کریں گے۔ اگر آپ کی شاعری معیار کے مطابق نہ ہوئی تو آپ کو آگاہ کر دیا جائے گا۔ ادارہ کسی بھی شاعری کو رد کرنے کا اختیار رکھتا ہے۔ آپ کی شاعری کا جائزہ لینے میں متعدد دن لگ سکتے ہیں۔ برائے مہربانی بار بار فون یا ای میل کرنے سے اجتناب کریں۔ آپ نیجئے دئے گئے ای میل پر آپ اپنی شاعری ہمیں بھجوا سکتے ہیں۔
Urdu Point provides a dedicated space and services for emerging poets of the modern era. Our commitment to all emerging poets is the same as during the early days of Urdu Point. With this section of Urdu Point, you have the wonderful opportunity to submit your poetry for free from anywhere in the world.
Please click here if you already have an account on Urdu Point. It will take you to your personal profile, where you can upload your poetry. In case if you do not have an account on Urdu Point, please click here. This section will guide you through the entire process of creating an account and uploading your poetry.
If you don't want to create an account, you can email us your Urdu Poetry. There are a few perquisites that are compulsory for submission. These are
Your Name
Your email ID
Your picture
The topic of your poetry
The poetry
Note: Incomplete submission will not be entertained.
Your poetry will be reviewed by our editors and published soon after. Also, your writing must meet the editorial standards; otherwise, it will not be shared with the editors.
Urdu Point reserves the right to reject any of the poetry on any grounds whatsoever may be. We will notify you if your piece of poetry does not meet our standards.
You should take into account that we may take some time to review your poetry. To accomplish this goal, we highly appreciate your cooperation. Please don't call or email us repeatedly, as it will not make the process fast.
Furthermore, you can also send us poems using the following e-mail address.