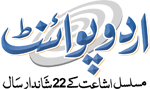 Urdu Nazam Shayari - Types of Urdu Nazams Poetry, History and Famous Poets of Urdu Nazam
Urdu Nazam Poetry is a broad form of Urdu Poetry in which all types of poems are included. An Urdu Nazam Shayari can be on any topic, depicting anyone's thoughts or feelings about anything. You can read the wide and best collection of Urdu Nazams Poetry at UrduPoint. Here you can find all your favorite Urdu Nazams Shayari for reading. Also, we suggest you explore the new Urdu Nazam collection, and you will surely love the contributions from the young writers.
Urdu literature is subdivided into two parts, one is Urdu Nasar, and the second is Urdu Nazam. Urdu Nazam (Poem) is further classified as Nazam, Masnavi, Ghazal, Qasidah, Marsiyah, Rubayi, and so on. However, Nazam is a primary part of Urdu Poetry that is habitually written in rhymed verses and the latest narrative style Nazams.
If we define Urdu Nazam, it is written by heading one's imaginations and feelings which are effectively debated, flourished, and finally decided according to the poetry rules. The title to a Nazam is given by analyzing the central theme. While writing Urdu Nazam, it is unnecessary to follow any rule as it totally depends on the poet.
A Nazam might be shorter or longer; there are no considerations that the poet must consider while writing, mainly about the rhyme scheme and its size. Moreover, all the verses written in an Urdu Nazam are connected with each other. In short, Urdu Nazam is the shape of expressive poetry.
Brief History of Urdu Nazam
Urdu Nazam originated from North Asia or Indo-Pak and got prominence in the 19th century. The form and utilization have been changed over the years. The methodology and rhythm changed in the late 19th century. Nazam is an old word that gives it glamour. There are no rules and regulations to write Nazm, and it's the beauty of modern Nazam. This special quality of hugeness makes it significant in the Urdu Literature world.
During the period from 1857 to 1938, the top contributors were Dr. Allama Muhammad Iqbal and Mughal Empror Bahadur Shah Zafar. Moreover, Allama Iqbal wrote poems that make passionate and awake Muslims so that they can strive for a separate homeland (Pakistan). Shortly, Nazam existed in the early time but became popular in the late 19th century.
Some Famous Urdu Nazam Poets
Many Poets contributed to writing different kinds of Nazams, but here are some prominent poets who have notable contributions to the Genre of Nazam. These include Allama Muhammad Iqbal, Nazeer Akbarabadi, Altaf Hussain Hali, Firaq Gorakhpuri, Josh Malihabadi, Majeed Amjad, Faiz Ahmad Faiz, Kaifi Azmi, Gulzar, Ahmad Faraz, Ahmad Nadeem Qasmi, Hafeez Jalandhri, and Moeen Nizami.
Different Types of Urdu Nazam
There are countless types of Nazam, but here we are sharing some major types with you.
Doha
Hamd
Ghazal
Madah
Manaqabat
Marsia
Masnavi
Naat
Noha
Qasida
Qawali
Trana and so on.
Let's explain some key types of Urdu Nazam.
Ghazal
Ghazal is a collection of two lines verses that must end with the matching rhyme and should be according to the pre-defined rules for Ghazal. Moreover, a Ghazal must contain at least five couplets. The couplets might be the same or not. If couplets are different, it is the most difficult type of Ghazal.
Hamd
Hamd is the most common genre of Urdu Nazam. The meaning of Hamd is "Praise" and exclusively corresponds to the praise of God, whether in oral or written form. The Word Hamd is always used for God (ALLAH Almighty). It is also known by a phrase of Tahmid - "Al-Hamdu li-llah" means "Praise be to God". Furthermore, this word is originated from the Holy Quran.
Qawali
Qawali is a type of Islamic devotional song sung by a Sufi, originated from the subcontinent, and well-liked in Sidh and Punjab domains of Pakistan. From day one, it is carried out at Sufi Shrines (Dargahs) in South Asia. However, Qawali obtained global exposure after the contribution of top Qawals, i.e., Aziz Mian Qawwal, Sabri Brothers, and Nusrat Fateh Ali Khan.
Naat
The meaning of Naat is the prase of Prophet Hazrat Muhammad (SAW) especially prominent in South Asian countries (Pakistan, Bangladesh, and India). Furthermore, a person who recites Naat is commonly known as Sana'a Khuaan or Naat Khawan. Most people recite naat in Pashto, Urdu, Punjabi, Saraiki, and Bangali languages.
Conclusion
Urdu Nazam is a primary and dominant genre in Urdu literature. Many Poets utilized Nazam power to boost up the energy of youngsters in the subcontinent. Over time, it became famous and vast in classification. In short, we have given you a brief description of Urdu Nazam.