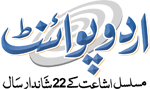 Urdu Ghazal Shayari - Read Sad, Love, Romantic Urdu Ghazals Poetry in Urdu
Urdu Ghazal Shayari is the most loved form of Urdu Poetry. People love to read Urdu Ghazals and listen to them in songs in the melodious voices of famous singers. In this section, you can find a vast collection of Urdu Ghazals. Read Ghazals by your favorite Urdu Poets and the new collection of Urdu Ghazals Shayari to make your new favorites.
Urdu Ghazal Poetry is a literary shape of Ghazal (Poetry), especially in South Asia. It is generally stated that the outspread of Ghazal in South Asia is due to the domination of Sufism and the Delhi Sultanate (Islamic Empire). A Ghazal is constructed from verses that are similar to pairs. Those couplets are connected in rhymes such as AA, AB, BA, DA, EA, and much more in a single verse. Traditionally, Urdu Ghazal settles in the consciousness of an impassioned, distressed lover that is found in his Shairi, and historians call it "The Ghazal Universe".
A Brief History
Urdu and Hindi literature was not common till the 18th century (1700s). In North India, plentiful literary traditions existed in Branjbhasha and Awadhi with premature text before the 14th century. Muhammad Quli Qutb Shah founded the Hyderabadi Ghazals in the 17th century in three languages, i.e., Urdu, Persian, and Telugu. Then the Urdu Shairi came to its classical period.
Mir Taqi Mir led the way for Urdu Ghazals Poetry in the early 18th century by mingling Persian impacts with idiomatic and ordinary Urdu language. After that, many poets contributed to the Ghazal revolution, i.e., Ghalib, Zouq, Momin, Dagh, Zafar, etc. The Ghazal made its root in the 1857 war so strong that the Mughal emperors were Ghazal lovers. You can guess it by the fact that Bahadur Shah Zafar (Last Mughal Badshah) also wrote Ghazals while imprisoned by the British.
After that, Urdu poetry started to modernize, and Aligarh Movement gave it a push. Then they started preserving Urdu Ghazals, and Rekhta Foundation was the largest Urdu Ghazal protecting and preserving organization. A large number of people still like Urdu Ghazals and Urdu Shairi.
Parts of the Urdu Ghazals
Five parts of Urdu Ghazals are given below and describe the format of the Urdu Ghazals briefly.
Matla'a
It is defined as the first two lines that are called a couplet in Ghazals is called Matla'a.
Radif
It is the word repeated at the end of every verse. Radif literary means a ride in the back.
Ghaafiyeah
Ghaafiyeah literary means the ride behind. The same weight and the same sound words that come before Radif are called Ghaafiyeah.
Maktaa
The literary meaning of the Maktaa is to end. The last couplet of the ghazal where the poet uses his pseudonym to end the couplet is finishing Maktaa.
Behr
Behr is the name of a technique that sets the length of a ghazal.
Themes of Urdu Ghazal
Initially, the Ghazals were constructed on an exclusively religious theme. After modernization, it has many other themes such as Romantic Ghazals, Sad Ghazal, love Ghazal, breakup Ghazal, and many more.
Wholehearted & Superior Love Urdu Ghazals
Love is always regarded as an essential ingredient that is necessary to complete a human. If acquired, it will raise him/her to the heights of intelligence (wise). It will also bring pleasure to his/her soul. Traditional Urdu Ghazals have no explicit or sexual element in them, and the love was purely spiritual. Love was governed by a man or woman. Urdu Ghazals were depicted the poet's point of view of unreturned love and considered as unachievable.
Mostly, either the poets' love had not come back, or the lover has returned his sincerity in such a way that was not allowed by the societal circumstances. The love knew everything and put all on fate but continued to love unconditionally. The tension of breakup drove the lyrics. The presentation of the lover's helplessness to counter his feelings mostly comprises excessive violence-based lyrics. Romantics, sad, breakup, and such Ghazals fall in this category.
Sufism (Religious Urdu Ghazals)
Several ancient Urdu Ghazal poets either put the taste of Sufis (Such as Rumi and Hafiz) or were supporters of Sufi ideas. Most Urdu Ghazals' content is spiritual with Mat'la (Metaphor) for God or the worthy master. The extreme divine love with Sufism is obeyed as a role model for love Ghazal poetry. Nowadays, most scholars acknowledged that many Ghazal verses are solely about Divine Love (Ishq e Haqiqi). Remaining emphasis on earthly love (Ishq e Majazi). These Ghazals are mostly written and sung by Pakistani, Afghani, and Indians.
Urdu Ghazals started to form their roots in Arab and Indo-Pak in the 17th century due to the eternal work of poets, i.e., Rumi, Hafiz Mirza Ghalib, and many more. Among all, Ghalib is known as the master of Ghazals.
Well-Known Ghazal Poets
The top Ghazal writers are Rumi, Saadi Shirazi, Mirza Ghalib, Iqbal, Friedrich Ruckert, Agha Shahid Ali, Moti Ram Bhatta, and Hamza Shinwari. These poets belong to different areas such as Pakistan, Persia, Ottoman Empire, North India, Bengal, Germany, Kashmir, and Nepal.
Conclusion
Urdu Ghazals are known as the important heritage of the Urdu language. Since the 14th century, the number of lovers of poetry is increasing day by day. People love Ghazals because of the lyrics that depict their emotions. Above all, we have provided you a piece of concise information in such a short article. Stay connected for more information.