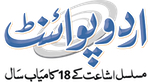 MENU
Qawwali is basically a sufi devotional music. Qawwali is mostly loved by many people. Urdu Point provides you the Qawwali poetry. You can get the Qawwali lyrics and Qawwali quotes as well. People who love Nusrat Fateh Ali khan and Nusrat Qawwali can get the Qawwali lyrics as well. If you want to get the Qawwali lyrics then go for the Urdu Point. People who are in love with the Qawwali songs can get the Qawwali song lyrics here. Urdu Point has the best qawwali lyrics. Qawwali mp3 can be searched at internet but if you want to get the Qawwali Lyrics then go for Urdu Point. Best qawwali of Nusrat lyrics are found here. Urdu Point has a diverse poetry collection. All types of poetry are accessible at Urdu Point.
You can get the Nusrat qawwali lyrics easily. Nusrat qawwali are loved by everyone. If you have the qawwali audio but you want qawwali lyrics then Urdu Point can help you. We provide you the new qawwali lyrics and old qawwali lyrics. Sher mian dad qawwali lyrics are also found here. People who want to get the qawwali quotes can go for the qawwali quotes. Qawali quotes are also found at Urdu Point. Urdu Point always facilitates its users in best possible way. If you are an Urdu Point user and want to get qawwali poetry then you can have an easy access to the qawwali lyrics.
Qawali Poetry which includes qawali song lyrics, qawali quotes and qawwali shayari are found at Urdu Point. If you are looking for the qawwali shayari or qawwali poetry then seek help at Urdu Point. Urdu Point is the best possible website to get the qawwali poetry and qawwali lyrics. We have the qawali lyrics by famous qawwali singers such as Nusrat Fateh and Sabri Brothers. You can have all the qawwali lyrics. Now go for Urdu Point and get the qawwali lyrics here.