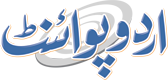 Urdu Poets - List of Famous Poets from Pakistan & India
Poets Lists - This section for Urdu Poetry at UrduPoint has a list of Urdu Poets for their readers and subscribers. In this section, you can now see the list of poets of Urdu language on a single page. UrduPoint brings top Poets List for their followers who have love for Urdu Poetry. We have gathered all the Urdu Poets on this list at UrduPoint.
اردو شعراء کی فہرست۔ پاکستان اور بھارت کے مشہور اردو شعرا
Urdu Poets & Poets of Urdu Language
We at UrduPoint bring you the list of Poets in Urdu poetry. This page contains the list of all the Pakistani and Indian Poets. Further, if you want to know about your favorite Urdu Poets, then this is the page for you.
This web page is the only page that brings you the list of Urdu Shayars. Furthermore, you will be able to find your favorite poet on Urdu poets name list, his Shayari, information, his city, Ghazals, and books of poetry written by these popular poets.
People like to read poetry from top poets instead of unknown poets. We provide you the best Urdu Poetry by famous Indian poets, famous Pakistani poets, and famous Urdu Poets.