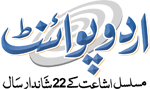 Urdu Naats Shayari - Structure, History, Famous Poets of Urdu Naats Poetry
Urdu Naat Poetry is a famous type of Urdu Poetry used to praise Prophet Muhammad (PBUH). All the Urdu Poets want to write Urdu Naat Shayari once in their career. There are many Urdu Poets that have written famous Urdu Naats Poetry of all times. You can read all the famous Urdu Naats Shayari and the latest Urdu Naats at UrduPoint, as the updated Urdu Naat Poetry collection is available here.
Naat is an Arabic word that means praise and admiration. In the Urdu language, Naat is a term that means praise or admiration of Prophet Muhammad (peace be upon him). It is considered a traditional way to show our love, respect, and admiration for the Holy Prophet (PBUH).
Many Arabic poets have written Naats in Arabic, but we always needed Urdu poets to write Urdu Naats Poetry. In Arabic traditional poetry, a genre about this topic is there, but it is called 'madh' or 'Madeeh' rather than Naat. The beginning of Arabic Naat was probably during the reign of the Holy Prophet(PBUH). From Arabic, it became popular in Persian, Urdu, Turkish, Punjabi, and Sindhi literature. Naat is recited with great joy and love of the Prophet (PBUH). In earlier times, it was considered a form of art.
History of Naat
We have seen many examples of Urdu poets composing at least a few lines in praise of the Prophet (peace be upon him), so the history of Urdu Naat Shayari lies within the roots of Urdu poetry. For centuries, the Arabic scholars and poets continued using Naat, referring to the great deeds, character, appearance, and life history of Hazrat Muhammad (peace be upon him).
Islam was introduced to Roman, Persian, Cyrillic, Hebrew, Qibti, and Turkish with time. So we can say that praise of Almighty Allah and Holy Prophet (PBUH) was made orally or written in these languages initially. Tala' al Badru 'Alayna is one of the earliest Naats in traditional Islamic Naat, as it was recited to Hazrat Muhammad (PBUH) when he completed his journey to Madina.
Poets of Urdu Naat
Many Urdu poets such as Qulli Qutub Shah, Vali Dakani, Mirza Sauda, Mir Taqi Mir, Maumin, Karamat Ali Shaheedi, and Ghalib wrote verses praising Hazrat Muhammad(PBUH). But we can credit Maulana Kifayat Ali Kaafi for making Naat a distinct and significant genre.
Another poet who played a huge part in making Urdu Naat popular was Maulana Ghulam Imam Shaheed, and then Hafiz Lutf Barelvi made Naats more approachable. After that, Mohsin Kakorvi and Ameer Mermaid popularized Urdu Naats in the late 19th century. Afterward, Altaf Hussain Haali, Shibli Nomani, Maulana Zafar Ali Khan, and Allama Iqbal led Urdu Naat poetry. Another famous poet famous for Urdu Naat is Maulana Ahmad Raza Khan Barelvi.
Structure of Urdu Naat
Naat is supposedly the praise of Hazrat Mohammad(PBUH), and it usually contains praise of characteristics, good deeds, teachings, lifestyle, and physical attributes of Hazrat Muhammad (PBUH). Naat Consist of two-lined verses with the same rhyming scheme, or it can be a couplet with a rhyme scheme of AA, BB. Traditional Naats were very long as compared to the modern ones. In recent times there were special booklets for Urdu Naats Shayari.
FAQs
What does Naat mean?
Naat is originated from Arabic and it means to praise or admiration. In literary words, Naat is the praise of Hazrat Muhammad (PBUH), his teaching, lifestyle, appearance, and personality in poetic words.
How is a Naat different from a Hamd?
Hamd is subjectively different from a Naat as in Hamd, we talk about characteristics of Allah, the creator, while in Naat, we praise Prophet Muhammad (PBUH) for the sake of our love. The pattern is somewhat the same for both.
Where does Naat originate?
Naats were more specifically recited in Arab as most ancient Naats are in Arabic and Persian, so it will not be true to name a specific place or time. Even in the times of Hazrat Muhammad(PBUH), Naats were recited.
How do I write a Naat?
Naat is said to be the praise of Hazrat Muhammad (PBUH) so it will be perfect to write about the theme. Not using heavy words is the key to writing something effectively. Literary understanding is far more important in Urdu poetry and literature.