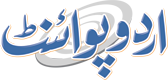 Urdu Poetry Videos - Watch Urdu Video Poetry
Video Urdu Poetry List - You can browse the best collection of Urdu poetry videos in the best quality. Watch poetry videos online or download MP4. Poetry is converting into videos, which enables people to watch Urdu poetry videos. At UrduPoint, you can watch video Urdu poetry. There are many videos of Urdu Poetry by famous poets available here.
اردو شاعری ویڈیو فارمیٹ میں دیکھئے
Video Urdu Poetry
Reading poetry over the internet was the most popular thing in the past. But not anymore, with the advancements in technology, things have gone towards facilitating the fans for watching this poetry in the voice of the poet himself. Now you can watch the best HD quality Urdu poetry videos from the very famous Urdu poets from their best collection of poetry. Further, you can also watch your favorite poet's videos online at UrduPoint.
In modern times things have started to change for the better; now, these mushairas are saved in the video format allowing the viewers to watch repeatedly. Further, these videos are also available in small clips and short videos that are in trend these days, and people prefer watching them as they consume less time.
UrduPoint brings you video Shayari so that you can watch it online or download video Urdu Poetry on your device.