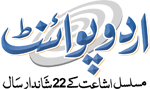 Kanwal Feroze Poetry - Kanwal Feroze Shayari, Urdu Ghazal, Nazam Collection

1938 Lahore
Kanwal Feroze Poetry in Urdu is famous among poetry lovers. Everyone love to read Kanwal Feroze Urdu Shayari. Best and vast collection of Kanwal Feroze Urdu Shayari is available at UrduPoint. We update it regularly so that you don't miss any latest Kanwal Feroze Poetry in Urdu.
Kanwal Feroze is a Pakistani scholar, poet, writer and journalist. He was born in 1938 in Ferozpur, India. He is the Chief Editor of the monthly Urdu language journal Shadaab, which is an independent literary magazine. He holds a Ph.D. in Community Journalism.
In February 2005, he was honoured by the Pakistan Academy of Letters.
In 2009, he was awarded the Tamgha-i-Imtiaz (President's Medal of Excellence) in Literature by the Government of Pakistan.
His poetry has been published in four volumes:
Shahar-e- Saleeb-o-Gul – 1967
Shaakh-e-Shab-e-Wisaal - 1992
Shaam-e-Firat-e-Dil - 2002
Shafaq-e-Subh-e-Ghazal - 2009