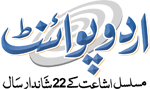 Khursheed Rizvi Poetry - Khursheed Rizvi Shayari, Urdu Ghazal, Nazam Collection

1942
Khursheed Rizvi Poetry in Urdu is famous among poetry lovers. Everyone love to read Khursheed Rizvi Urdu Shayari. Best and vast collection of Khursheed Rizvi Urdu Shayari is available at UrduPoint. We update it regularly so that you don't miss any latest Khursheed Rizvi Poetry in Urdu.
He was born on May 19, 1942 in Amroha in a Sunni Sadaat family. He migrated to Sahiwal. Here he studied at Islamia High School, Government High School & finally graduated from Government College. He moved to the University Oriental College Lahore for higher studies and earned his MA in Arabic in 1961, standing first in the University of the Punjab. Later, he got his Ph.D. in Arabic from the same university in 1981. Dr. Khurshid Rizvi considers his college and university teacher Sufi Zia-ul-Haq as the biggest influence on his academic career. Dr. Rizvi also ranks highly amongst the Urdu poets, researchers & men of letters in Pakistan.
The list of the notable awards given to Dr. Rizvi includes: • Sitara-e-Imtiaz 2008 • Ahmad Nadeem Qasimi Award 2005 • Ahmad Faraz Literary Award 2012 • Khalid Ahmad Award 2013 • U.B.L Literary Excellence Award (Urdu Poetry) 2013 • Majlis-e- Farogh-e-Urdu Adab, Doha, Qatar's Award 2015.