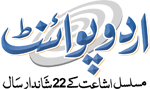 Nizar Qabbani Poetry - Nizar Qabbani Shayari, Urdu Ghazal, Nazam Collection
1923 - 1998
Nizar Qabbani Poetry in Urdu is famous among poetry lovers. Everyone love to read Nizar Qabbani Urdu Shayari. Best and vast collection of Nizar Qabbani Urdu Shayari is available at UrduPoint. We update it regularly so that you don't miss any latest Nizar Qabbani Poetry in Urdu.
Nizar Tawfiq Qabbani was born on 21 March 1923. He was a Syrian diplomat, poet and publisher. Nizar Qabbani was born in the Syrian capital of Damascus. Qabbani studied at the national Scientific College School in Damascus during 1930 and 1941. He later studied law at the Damascus University, which was called Syrian University until 1958. He graduated with a bachelor's degree in law in 1945.
While a student in college he wrote his first collection of poems entitled The Brunette Told Me. It was a collection of romantic verses that made several startling references to a woman's body, sending shock waves throughout the conservative society in Damascus. To make it more acceptable, Qabbani showed it to Munir al-Ajlani, the minister of education who was also a friend of his father and a leading nationalist leader in Syria. Ajlani liked the poems and endorsed them by writing the preface for Nizar's first book.
He died on 30 April 1998.