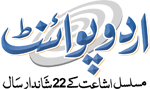 Haider Gilani Poetry - Haider Gilani Shayari, Urdu Ghazal, Nazam Collection
Haider Gilani Poetry in Urdu is famous among poetry lovers. Everyone love to read Haider Gilani Urdu Shayari. Best and vast collection of Haider Gilani Urdu Shayari is available at UrduPoint. We update it regularly so that you don't miss any latest Haider Gilani Poetry in Urdu.
Ali Haider Gilani is also known by the name of Ali Haider Multani. Ali Haider (1690-1785), is also known as Punjabi Sufi poet and was born in village Chountra, tehsil Pir Mahal district Toba Tek Singh, Punjab in the year (1690). Some traditions say that he spent his most of life in that village where he was born. He died in the year 1785 at the age of ninety-five. Ali Haider was a Gilani Syed and an intellectual of Arabic and Persian. Most of credit of his work goes to his great achievements. During the disturbed and troublous times following the death of Aurangzeb, his spiritualist poetry helped in maintaining mental balance of the people and brought much needed soothe and relief to the peasantry in and around Multan.
He was a complete Sufi. He has worked in Arabic and Persian and he always tried to use their vocabulary in his Punjabi lines of poetry. According to him, the Sufi in real life nourishes pain and tears of love while in search of union with the Divine Beloved.