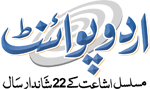 Gulzar Funny Poetry - Best Urdu Gulzar Funny Shayari

1934 Jhelum
Gulzar Funny poetry - Read Gulzar Funny Shayari in Urdu. Gulzar is famous for writing the best Funny Shayari in Urdu language. At UrduPoint, you can read the latest and best collection of Gulzar Funny poetry in Urdu.
Gulzar Funny Poetry
Funny Poetry or Gulzar Funny Shayari - Now, let us talk about the funny aspects of poetry in Urdu. Many types of funny poetry can make people laugh, smile, and forget about the worries and problems you face for quite some time. Gulzar Funny poetry in Urdu is known as the best poetry for making people happy, light-hearted and provides them with the opportunity to smile and laugh for the moment.
Furthermore, Gulzar funny Shayari in Urdu for friends is a type of poetry in which the poet tells or narrates the funny aspects of friendship in the same manner as best friends share funny experiences and how they had lived their lives when they were young. This funny Shayari by Gulzar allows them to read the best funny poetry to learn new aspects and share the funny poetry among friends.
Gulzar Funny poetry is the most common and adored aspect of Urdu poetry. There are a considerable number of individuals with a greater sense of humor when it comes to sharing their experiences and their funny side. It is their ability to add humor to their daily routine and that poetry or humor gain appreciation. Furthermore, many people like to read and listen to the Gulzar funny Shayari daily.
This funny poetry of Gulzar lets them enjoy the content, and they remember it to add these funny talks and poetry into their daily routine talks. Below is the list of Funny Poetry of Gulzar; read it, and you will surely like it. So don't forget to share it with your friends.