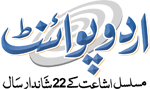 Ada Jafri Poetry - Ada Jafri Shayari, Urdu Ghazal, Nazam Collection

1924 - 2015 Nagpur
Ada Jafri Poetry in Urdu is famous among poetry lovers. Everyone love to read Ada Jafarey Poetry in urdu. Best and vast collection of Ada Jafarey Shayari in urdu is available at UrduPoint. We update it regularly so that you don't miss any latest Ada Jafri Shayari in Urdu.
Ada Jafri Poetry
On August 22, 1924, Aziz Jahan was born in Badayun, Utter Pardesh, then British controlled India. When she was three years old, Maulvi Badrul Hasan died, and her mother was responsible for raising her. Ada Badayuni, under the pen name of Ada Badayuni, began writing poetry at the age of twelve. The social boundaries that surrounded her early life were impassable.
She is the most renowned poet, a writer in the genre of Ghazal, free verse, short essay, and memoirs. Besides, she is known as the first lady of Urdu poetry for her work.
Ada Jafri Personal life
When Aziz Jahan was only three, her father, Maulvi Badrul Hasan, died, leaving her and her mother to carry on. Now she was the core responsibility of her mother, and she took a great deal of care for her. Her early life bounds her to be what she was. But she kept on trying and succeeded in that.
At a wedding ceremony held in Lucknow, India, on January 29, 1947, she married Nurul Hasan Jafarey. Ada Jafarey changed her name to Ada Jafarey after acquiring her husband's name. Her husband, Nurul Hasan, worked for the federal government of India as a top official. As well as Ada Jafarey, her husband moved to Karachi after Pakistan gained independence in 1947.
In addition to writing columns for English and Urdu newspapers, her husband was also a litterateur. Anjuman-i Taraqqi-i Urdu, of which he was the president, was also established.
Aamir, Sabiha, and Azmi were the children of Ada and Nurul Hasan Jafarey. The family of Sabiha lives in Potomac, Maryland, the US. Sabiha's husband, Zubair Iqbal, is a pharmacist and the father of three children Sabah, Yusuf, and Sameer Iqbal.
The Azmi Jafarey family has now relocated to Andover, Massachusetts, US. Azmi Jafarey and his wife Shua live there with their two sons, Faaez Jafarey and Aazim Jafarey. Ada Jafarey lived with her son Aamir Jafarey and his wife Maha and their Asra Jafarey in Karachi until Ada's death. As a great-grandmother of Sabine Rana and Rizwan Rana, the children of Sabah Iqbal Rana and Fawad Rana, Ada Jafarey has two great-grandchildren.
Nurul Hassan Jafry passed away on December 03, 1995. And he was a great source of inspiration, and she was greatly influenced by her husband, Nurul Hasan.
Ada Jafri Career
Traditionally conservative societies considered ladies incapable of thinking and expressing themselves freely. But this was not the case with Ada Jafarey. She made her impact on society through her poetry and poetic work. Nevertheless, she expressed herself with boldness. She took part in modern art despite being rooted in tradition. In the year 1950, she was acclaimed as the First Lady of Urdu Poetry due to her work.
Despite her social difficulties, her mother and her husband Nurul Hasan Jafarey proved to be the encouragement she deserves. She continued her literary activities. In her youth, she studied under great poets such as Akhtar Sheerani and Jafar Ali Khan Asar Lakhnavi. They were responsible for honing her skills and making corrections to her poetic works that led her to explore new horizons.
The first Ada Jafarey ghazal was published in Roman, a magazine by Akhtar Sheerani, in 1945. 'Main Saz Dhundti Rahi' was Ada Jafarey's first collection of poetry launched in the year 1950, which later led her to win the most prestigious claim of the first lady of Urdu poetry. Her poetic work contains short essays, brief biographies, and brief comments on the works of previous Urdu poets. Ghazal Numa, published in 1987, is a collection of those essays and commentary.
Ada Jafri Pen Name
Aziz Jahan started her poetry at the age of twelve years, and she took the name Ada Badayuni. After her marriage with Nurul Hasan Jafarey, she changed her poetic name from Ada Badayuni to Ada Jafri.
Ada Jafri Poetry
Despite adhering to a gender-neutral style, Ada Jafri Best Poetry includes feminist themes like discrimination and dehumanization of women and their view. From her poetry, her personality seems to be missing.
In her writing, Ada Jafarey emphasized the roles of mother and wife as viewed through a modified traditional style, yet she noted that these roles often led to little fulfillment.
She has written Ghazals primarily but has also written a large number of AZAD nazms and Urdu Haikus. Both nazm and ghazal were her areas of expertise in Urdu poetry. Ada is the pen name she used in her ghazals. Several mazamins have been written by her as well.
Ada Jafri Poetry Books
Ada Jafri's Urdu Poetry books collection is here for you to read. Further, Ada Jafri Urdu poetry pdf versions are also available to download and read accordingly. Ada Jafri Books list is here for you.
Shahr-e-Dard
Saz-e-Sukhan
Saaz-e-Sukhan Bahana Hai
Main Saaz Dhundhti Rahi
Jo Rahi So Bekhabari Rahi
Jo Rahi So Bekhabari Rahi
Harf-e-Shanasai
Ghazalan Tum To Waqif Ho
Ghazal Numa – New
Ghazal Numa – Old
Ada Jafri Awards
A distinguished award was given to her by the Hamdard Foundation, New Delhi, in 1955 as the Outstanding Female Poet of the Century. Shahr-i Dard, her second poetic collection, later won the Adamjee Literary Award from the Pakistan Writers' Guild.
The Government of Pakistan awarded her the Medal of Excellence in 1981 in recognition of her efforts. In 1994, she received the Baba-e Urdu Award and the Quaid-e-Azam Literary Award, prestigious awards presented by the Pakistan Academy of Letters. The Hamdard Foundation of Pakistan also presented her with the Certificate of Merit. And in the same year, 1994, she received another prominent award of Baba-e Urdu, the Dr. Maulvi Abdul Haq Award. This award was from the Pakistan Academy of Letters.
In North America and Europe, she has won numerous literary awards from various societies. In 1997, the Pakistan Academy of Letters established the literary prize for the first time, and she was the first woman to receive it. Further, her award for her performance in literature was given by the Government of Pakistan on August 14, 2002. And a lifetime achievement award in literature was presented to her by the Pakistan Academy of Letters in 2003.
Ada Jafri Death
Sadly, Ada Jafarey passed away in Karachi at the age of 90 on March 12, 2015, while being treated in a hospital. Top ranking and high profile personalities shared sheer grief and sorrow on her demise. And their prayers for her soul and her work in Urdu poetry were heartfelt. Al-Hilal Mosque in Karachi was the site of the funeral prayer. In Karachi, she was laid to rest at the PECHS Cemeteries in Jamshed Town on March 13, 2015.